So we got a 2012 Toyota Land Cruiser 4.6 VX-R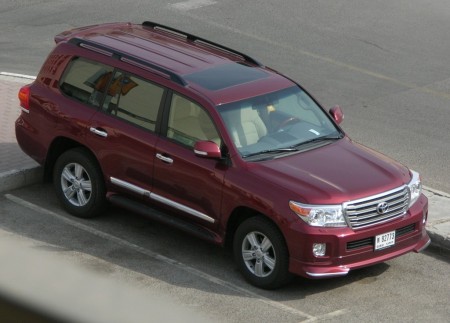 The Toyota Land Cruiser, quite possibly the most overrated vehicle in the world, or so most of us would like to think. So many of them ply the roads in the Middle East, tailgating everyone else, that most people have a love-hate perspective on them. We did drive the Land Cruiser before, but never really pushed it too hard off-road, because we weren't experienced enough back then. But then, come 2012, there is an updated version with a new 4.6-litre engine option. This time, we were ready to take it off-road. Properly.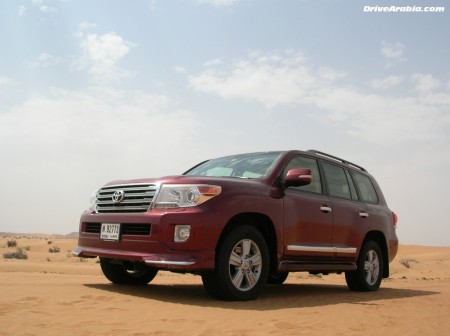 External changes are minimal, but what's really obvious was that tacked-on lower lip on the front bumper, apparently standard on all V8 models here for some reason. Once we took a look at its approach angle, we knew we'd run into trouble.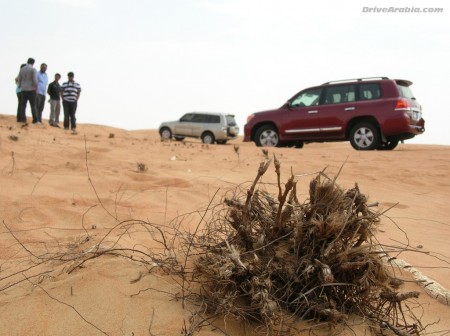 We had Vivek "Oberoi" Menon and his gang with us in his 2010 Mitsubishi Pajero 3.5, leading the way through the sands of wherever we were, somewhere between Sharjah and Kalba.
Tyres deflated, traction control off, side-airbags turned off, and tiptronic gear in first, we set off into the unknown, not following any tracks, but rather, paving our own way.
The interior remains the same, a great comfortable place to hang out in during a day of offroading. That's the advantage of a Land Cruiser over more basic offroaders such as the Toyota FJ Cruiser, the Jeep Wrangler or the Nissan Xterra.
The Pajero was doing fine, and so were we. We told Vivek "Why-This-Kolaveri-Di" Menon to take it easy with the routes, as we didn't want to damage our Toyota. So we were taking moderate dunes, although some turned out to be steeper than expected. While we couldn't feel it, we were later told by the Pajero occupants that they could see the front-end of our Land Cruiser digging into the sand a lot of times, which bothered us even more.
Still, the Land Cruiser was handling the soft sand with way too much ease, never bogging down with three people in the car, even in places where the weaker Pajero appeared to struggle slightly. And this was with an engine that had less than 800 km on it, barely broken in, so we could feel it wasn't at optimum performance yet.
At one point, Vivek "Rajnikanth" Menon challenged us to climb a steep dune and see how far we could get. The Land Cruiser lost, obviously, because I backed off the throttle just as we were about to hit that slope in a bid to save that chin. We didn't get very far up, and safely backed down again. I then let him take a spin with the Landy, and he side-sloped it with caution, getting annoyed at having to exercise caution.
Having done enough mild-to-moderate dune bashing for the day, we started heading out to the nearest petrol station to fill up the tyres again. Then, as a last hurrah, I decided to take drive it along the side of a firm dune. It turned out that dune was bumpier than we thought, and the Landy caught a few inches of air before landing on the dune again, still at a 30-degree angle. The strength of the body-on-frame chassis was obvious here, as nothing in the car rattled.
Then we continued to cruise along on the sand, when my buddy in the passenger seat says he could here a faint rattle. I figured it's nothing, but we stopped anyway, and were shocked to see that, what we were trying to avoid the whole morning, exactly that had happened. The lip had ripped off, and was now hanging underneath the front bumper. I tore off whatever was left, threw it in the big boot, and caught up with Vivek "Mondeo-Is-The-Best-Car-In-The-World" Menon quickly, now that we could finally drive like a Land Cruiser was meant to be driven.
After we all stopped again to inspect the damage, we first laughed, then cried, then wondered if Al Futtaim Motors would ban us after this stunt. We then saw that there was pretty much no damage to the front bumper aside from bits of the screwed-on lip still hanging there, and it occurred to us that we could finally push the Land Cruiser properly.
The Land Cruiser is the first choice of various Middle East military forces, various United Nations missions, and various Taliban groups for a reason, and it was proven without a doubt. We drove around in circles for about three minutes, side-sloping like pros and speeding over bumps. Even Vivek "Pajero-Is-King" Menon agreed that it is better than his unibody Mitsubishi, both in power and in durability, as he briefly did his thing without restrictions. But it was time to go, and we were satisfied with what we had witnessed.
So you want to buy a V8-powered Toyota Land Cruiser? If you do not plan on going off-road, then there is no point buying a Land Cruiser, and we'll point you straight to the Chrysler showroom to look at the Dodge Durango. But if you do plan to go off-road, do yourself a favour and get that "stylish" lip removed. It is tacked on with hundreds of hard-to-reach screws, so once you do get it off, just stuff it under your bed until it comes time to sell. You'll thank us later when you're beating the desert into submission.
Also, if you buy one, don't tailgate people. And please use your indicators. More in the full review.
Some photos by Salma Sultana, Sree J.P. and Vivek "SLR" Menon.