First drive: 2013 Fisker Karma ES in Dubai

Fisker as a carmaker has a bit of a checkered past. The American company was co-founded by a former Danish car designer who penned certain BMW and Aston Martin sports cars a decade ago, and then started peddling rebodied BMW coupes under the Fisker banner back in 2005. In 2008, they came up with a concept electric car so ridiculous that no one thought it'd get any further than the auto-show floor. After missing various deadlines, taking government loans and beating a Tesla lawsuit, the Fisker Karma beat all odds by finally hitting production in the summer of 2011. Fast-forward to 2012, and the car is on sale, right here in the UAE, looking almost exactly like it did as a concept all those years ago. And it's quite something.
The Fisker's most obvious attribute is its over-the-top styling. No other four-door car even comes close to the wavy profile of the Karma. The front-end even sports a huge Pringles moustache, as if boasting about its flamboyance. We only wish they'd placed the door handles more cleanly, as they look like an afterthought.
Step inside and the low-slung cabin greets you with lots of stitched leather surfaces, very few metallic trim bits, and a sliver of unvarnished wood on the dash to remind you that you're saving the planet somehow. There are only three buttons on the centre stack, with all the main controls integrated into a huge LCD touchscreen. There's a very high central console that goes all along the middle of the vehicle, between the two rear seats even, and that's because of the big battery pack. The gear-selector is a "matrix" of P-R-N-D buttons on the console, and the "paddle-shifters" are just driving-mode selectors.
Assembled in Finland, it's built tightly enough, although we did notice a few glaring flaws in our tester, such as a crooked a/c vent and a loose window rubber trim. Of course, that's nothing out of the ordinary compared to, say, a typical Chevrolet.
Space up front is great in every way except "arm" room, as I found my right elbow hitting the high centre console when turning the wheel. Rear room is cramped, to put it bluntly, but it can still fit very tall adults for inner-city trips, so it's at least more practical than a Ferrari FF. Fisker also found space for several iPods, cup-holders and 12V sockets in the centre console. The boot is very small, good for only groceries or a trolley bag. We found the brick-sized charging plug stored back there too.
The touchscreen is needed for everything from turning on the a/c to changing radio stations, and we have to say, it doesn't belong in a car at all. Imagine trying to play Angry Birds on your iPad while riding a camel, because that's exactly how it feels. It's a nice enough computer, initially slow but decent once it's all loaded up, but a few physical knobs for basic functions would've been nice. Everything worked fine, including music and phone, as long as you found it in the menus.
The real tech is all under the skin. Powered by two 161 hp electric motors driving the rear wheels, there is a back-up 260 hp 2.0-litre turbo petrol engine that is also used to drive the electric motors rather than the wheels directly. It can be plugged into a wall socket to charge up the batteries, and can also be filled up with petrol to run the turbo engine. The batteries even get a little recharge every time you brake, while a solar panel on the roof helps run the a/c and electrics. All of it adds up to 403 hp and 1300 Nm of torque, the latter necessary to move its titanic 2,400-kg curb weight.
With all that power fed through a 1-speed automatic, it's akin to driving a CVT-equipped Nissan Altima, only it doesn't feel as "rubbery" in its responses. Torque might be instantaneous, but it still won't spin its rear tyres, even with ESP off, so we suspect the juice is very carefully unleashed by electronic nannies. Our 0-100 kph run in petrol-assisted "Sport" mode netted a time of 6.9 seconds at best, in pleasant November weather. In fully-electric "Stealth" mode, it did 8.8 seconds, although we believe the engine still comes on to support the electrics under hard acceleration.
So the Fisker isn't really offering supercar performance, but the power is more than adequate for driving on public roads. However, we noticed that while initial acceleration is brisk, it doesn't push hard any more beyond 100 kph, so overtaking at highway speeds won't be as quick as you'd expect. The top speed is apparently 201 kph, which we didn't attempt.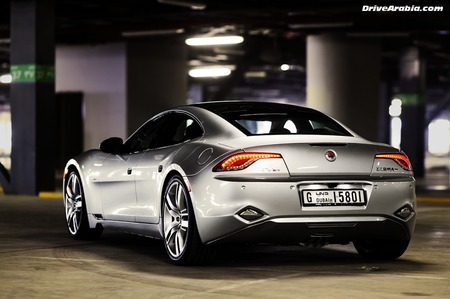 Most of the time, there is an aircraft-style "hum" audible when you're driving, which are just external speakers playing a sound for the benefit of pedestrians. When the petrol engine kicks in, a muffled rumble can finally be heard. Fisker has gone to great lengths to external downplay the existence of the petrol engine, whose actual exhaust tips are quietly peeking out behind the front wheels, while the back proudly displays some chrome "plugs" where you'd expect the exhaust outlets to be.
The most remarkable thing is how comfortably the Karma rides. It has extra-wide ultra-low profile tyres on 22-inch alloys, so it's not supposed to ride as well as it does. External noises are fairly low below 100 kph, but increases to noticeable levels at highway speeds. It's also easy enough to park, with sensors and a basic camera, even though the rear window is just a slit.
Handling is very good, though we did feel a little bit of body roll, likely a trade-off for that supple ride. The car likes to safely understeer out of corners, so don't expect to see a Fisker drifting any time soon. The surprise was how much firm feedback could be felt through the steering wheel, in an age where most cars offer nothing but Playstation controls. Even the brakes have good pedal feel, although it is very obvious the big Brembos work very hard to stop this heavy car quickly. You'll smell the brakes on every hard stop.
The big question in people's minds would be the range. Fisker claims 80 km on electric and 400 km more on petrol. With our air-conditioned moderately-aggressive driving, typical of Dubai people, we estimate the electric drive to last for 40 km at best. Taking it easier would probably help a lot. The truth is electric cars are built for city driving, sitting in traffic, and short commutes to work. If you live and work in Dubai, and you take it easy on the throttle pedal, it might be possible to do the daily drive without burning a drop of petrol at all. For the drives to Abu Dhabi and beyond, there's always the backup petrol engine.
We managed an overall consumption of 10 litres/100 km with mixed use of "Stealth" and "Sport" modes, playing around within Dubai. Not bad at all for a car that weighs almost as much as a Range Rover. Some would say that the power-stations generating the electricity that the Karma charges up with still pollutes the environment. But apparently in the overall scheme of things, the power-stations are much more efficient than millions of petrol-engined cars, so if everybody drove electric, the pollution is less. Of course, this can only happen in developed countries. Third-world countries barely generate enough power for home appliances, let alone cars.
Yet, the Fisker Karma is truly the future of motoring. It's the kind of car that we'd want to own ourselves, because it's that cool. Sure it costs Dhs 500,000, but the real problem is most of us wouldn't be able to use its main feature, which is to plug it into a wall socket and charge it, because we live in apartments. Sure, most people who can afford this probably live in a villa anyway, but what about that CEO who lives on top of the Burj Khalifa, or that other CEO who lives behind the Karama Fish Market? They'd be stuck with using it as a regular petrol-engined car, because no building owner in their right mind would allow freeloaders to charge their car and endure huge bills, while the parking-ticket inspector fines them after tripping over the charging cable. Until charging stations become as common as petrol stations, the Karma will remain a car for those who don't care about petrol prices anyway.
Photos by Faisal Khatib.