First drive: 2012 Honda Accord in Saudi Arabia

My father owned Japanese cars ever since he moved to Saudi Arabia during the 70s-80s gold rush. An '82 Mazda 929, an '86 Corona, a '90 Laurel (yes, the grey & black ones) & then a '94 Corolla. My first car was bought in 2009, a 2001 Caprice LS & at the first opportunity in 2010 I replaced it with a 2004 Lumina LS which has been serving me effortlessly. Father vs. Son, Asian cars vs. American cars. I hardly ever choose to drive a Toyota, Nissan, Hyundai et al when I have other options available. So when the chance came in a somewhat different manner, fate made sure I eventually drove a Japanese car. My father keeps shuttling between Riyadh and Jeddah on a regular basis for office work, but when winter vacations arrived, our family decided to jump in the car with him. The company provides us a car, but this time none were available. So they asked us to rent a car for 2 weeks on company expense, as long as the car was a midsize sedan. Our options were limited to the Camry, Accord or Sonata as the kind people over at Budget did not have a Charger or a Taurus available. I would be choosing the Accord anyhow out of the three as I did not want the Camry for obvious reasons, and not the Sonata even as I never quite liked the car.
After the initial inspection and satisfaction, I took the rather attractive-looking dark-grey 2.4-litre EX home where our 3 suitcases, numerous handbags, 2 laptops, blankets, tool box, cricket bat and more were waiting to be loaded up. They were easily accommodated in the massive boot.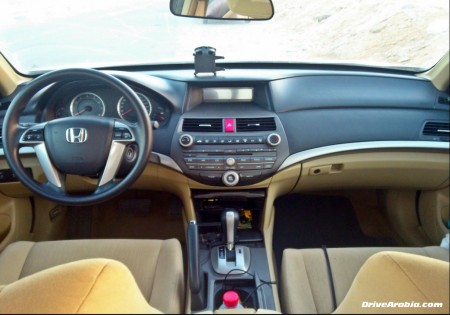 The interior is something that I like about the car, not very simple as in the Camry and not overdone like the Sonata. This being the very basic model, it did not have the fake wood, nor the parking sensors, but sure did have hard plastics for the most part. The covered cup holders and storage areas below the stereo are very nice additions. Most appealing is the centre console, despite all the claims people hold against it. The seats felt huge, the legroom and headroom are great, maybe because I am used to driving the Lumina. The only complaint and perhaps the most irritating part is the lack of a trip-computer. Oh yes, the steering-wheel I feel is not very grippy and hands tend to slip off while making U-turns (yikes). A steering-wheel cover would fix that I'm sure.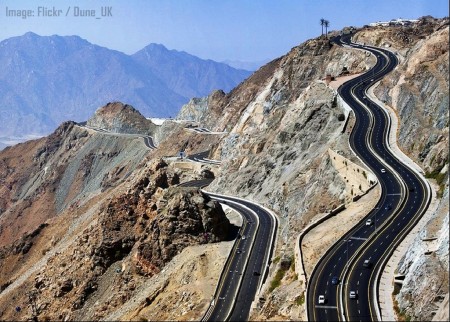 So we set off at 2 pm for the 950 km journey, the boot holding our cargo quite comfortably. We filled the tank about 150 km outside Riyadh.
The initial movement from a standstill is pretty good, the revs going to about 4500 rpm before smooth gear changes. There is a very minor, but noticeable delay in throttle response at higher speeds. It sprinted to 100 kph in around 11 seconds. The wind noise is audible, but it doesn't disturb in-car conversation, although it began to creep up during overtakes at about 130-135 kph. It did about 800 km on a single tank, all highway, and still had about a 100 km worth of fuel left.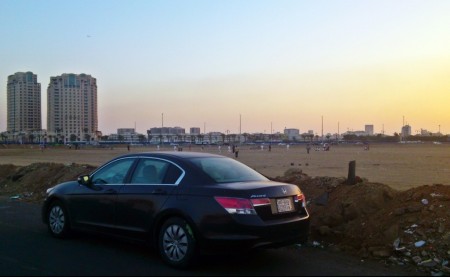 The ride is decent, as it handles the minor bumps quite nicely. It even went over a speed-bump at about 25 kph after I noticed it very late, and was rewarded with a minor jerk. The steering is soft and there were hints of understeer on most of the 93 curves during the 21 km drive down the Taif mountains, but then, I might have been going a little quick.
The Accord has been with me for 2 weeks, and even with 40,000 km already on the clock, it has made a pretty strong point for itself. I feel it more than justifies its price-tag, even as a redesigned 2013 replacement is now heading for showrooms. Note that when buying one in KSA, try to make sure it has not been abused by the 'shababs' for their favorite pass-time.