First drive: 2013 Jeep Wrangler at Jeep Jamboree Dubai

We snagged an invite to the 2013 edition of Jeep Jamboree Dubai in early January, a dealer-organised event open to all Jeep owners in the country. We went to the Jamboree a year go as well, all of it a desert drive with a dealer-provided five-door Jeep Wrangler Unlimited, so we figured this year would be the same. But they threw a few surprises at us in the form of a mixed wadi-desert combination, that too with a smaller three-door Jeep Wrangler.
The previous Jeep Jamboree was a real adventure in the wilderness, getting lost or left behind several times along the way. So this time, we had a back-up team tag along with us in their own Jeep Cherokee, led by our resident nutcase, Vivek Menon. Vivek is a self-learned offroad fanatic who writes those long-term Mitsubishi Pajero updates for us. He's become a big fan of his buddy's Cherokee now, especially after this event, but that's a story for another day.
The smaller Wrangler is the original Jeep. Even with two less doors than the Unlimited, it still seats four passengers, as long as the rear occupants are nimble enough. Up front, the cabin in our basic-spec press vehicle is totally familiar, with the hard-plastic dashboard that was redesigned just a couple of years ago, a decent CD/MP3 stereo, power windows, single-zone auto a/c, manually-adjustable front seats, net pockets and keyless entry. Cargo space out back is tight, but it can be increased by folding forward the rear seats at the expense of extra passenger capacity.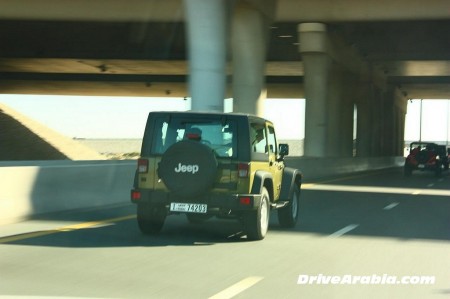 Our military-green Wrangler drove a lot like the Unlimited on the highway sections, of which there were a lot at this year's Jamboree. The steering remains lazy, the brakes are soft and the suspension is easy to unsettle, as all the mechanical bits are geared towards offroading. The handling can actually be managed fine with restrained driving speeds, but the ride is a bit more choppy than the longer-wheelbase Unlimited. And it's just as noisy in the cabin.
On the wadi sections, the Wrangler wasn't bothered at all, with great ground clearance to drive over sharp boulders and rocky inclines, that too without deflating the tyres. All it took was shifting the transfer case to 4-High, and the live-axle suspension took care of the rest.
The desert sections were just as adventurous as before. As we found out before, the traction control on the Jeep can be loosened up a lot but not fully disengaged in 4-High mode. It still manages to do a lot, as long as the run-up to climb the dune is fast enough and the revs are kept high. The latest 3.6-litre "Pentastar" V6 isn't the most torquey of engines, and needs to be revved hard to keep it moving up the taller dunes. The tiptronic does great on that front, holding revs even when hitting the redline in manual mode.
Cresting over dunes and reaching the bottom of slopes is completely tension-free, thanks again to the short wheelbase as well as the excellent approach angle. Of course, if you don't apply enough throttle on a soft-sand incline, it bogs down even with tyres at 15 psi. In that case, just slip into 4-Low and reverse out easily, as we had to do once. Incidentally, 4-Low apparently disables the traction control completely. We were a bit bothered by the folded-forward rear bench though, which kept bouncing around whenever we hit harsh bumps, as it does not seem to lock into place in that position.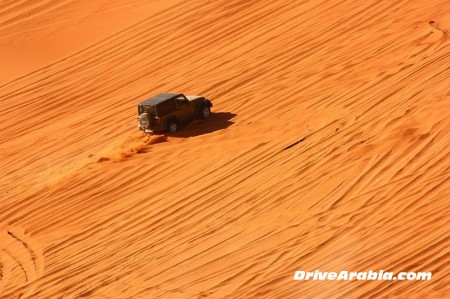 Part of the course involved stopping over at Fossil Rock. Here we handed the car to Vivek, who tried to climb the 10-storey dune on the side of the big rock. A wide variety of turbo-modified vehicles — Nissans, Toyotas and Jeeps even — were managing it quite fine, but our Wrangler made it up maybe only 20% of the way in several straight-up attempts, which is as much as can be expected from a stock vehicle without abusing it too much.
In the end, we made it out of the event in one piece, never having to use the recovery kit that we were carrying, and without anything falling off the car. As we'd concluded in our previous reviews of the Wrangler, it is a great vehicle for a beginner to just jump in without having to worry about breaking bumpers or bending alloys. Sure, it can't go everywhere that a few other powerful 4x4s can, but you can always find another route. That's what offroading is all about.
Photos by Salma Sultana and Vivek Menon.