First drive: 2013 Peugeot 301 in the UAE

The sub-compact market is a lucrative segment that's dominated by a select few. With the Toyota Yaris and the Nissan Tiida laying waste to competition by everyone from Chevrolet to Volkswagen, the latest entrant to try their luck is Peugeot. They already had the little 208, but needed more of an edge in terms of space versus price. And so, we have the Peugeot 301, a car designed for "emerging markets" that concentrates on cabin space above all else.
In fact, the staid-looking 301 sedan is almost big enough to be considered a compact, while competing in price with sub-compacts. It feels more spacious in the back seat than some larger cars like the Chevrolet Cruze and the Ford Focus. But while the boot and door pockets are also big, it is curiously missing important storage features, such as a tray to keep your phone, and the tiny cup-holders are shallow.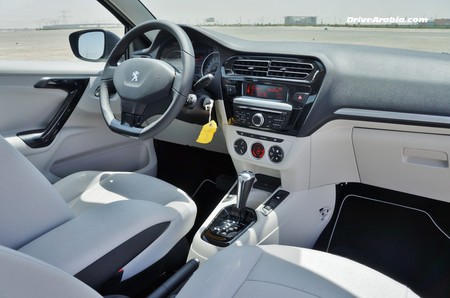 Our rolling-billboard of a test car came with a white interior, which looks great, but for the sake of longevity, we'd say skip it and go with a darker upholstery colour. Aside from the basic seats and the padded door armrests, everything else is hard plastic, as is the case with most of its rivals.
Features in our loaded trim is respectable, with power windows and mirrors, keyless entry, simple CD/MP3 stereo with USB/AUX ports, 2 airbags, parking sensors, fog lamps and even Bluetooth. The auto a/c has a pretty digital display, although it takes a good while to cool the cabin at full blast initially, but then maintains a cool cabin decently well in the summer.
Powered by a 115 hp 1.6-litre 4-cylinder engine with 150 Nm, the class-competitive motor is mated to a 4-speed automatic, possibly the same one that was in our old Peugeot 307. While the car is slow, doing 12.5 seconds in our 0-100 kph run, the gearbox isn't doing the fuel economy any favours, but at least it has a tiptronic feature. We averaged 9.5 litres/100 km, according to the trip computer.
The 301 rides pretty well for a car in its class, no doubt aided by the long wheelbase and meaty tyres. The smooth ride isn't complemented with silence however, as road and wind noises are prominent at highway speeds.
We always liked Peugeot for the insanely-good handling that all of their French-built cars seem to possess. However, the Spanish-built 301 isn't cut from the same cloth, intentionally, so that traditional handling sharpness is missing. Still, it handles fairly well, with well-controlled body motions. Body roll never goes beyond moderate levels, and quick lane-changes are handled without drama. The steering is lazier than the 208's, but is nicely-weighted and offers some feedback. The ABS-assisted brakes are fair, with linear feel and decent stopping power, which is more than we can say for most sub-compact cars.
Peugeot needed a model for people who preferred to give up the 208's handling for a lot more space. It also undercuts cars like the Indian-built VW Polo Sedan and the Thai-built Honda City when it comes to price, and is better-built than the Romanian-built Renault Duster and the Korean-built Chevy Sonic. While it doesn't offer anything new to the formula, and even falters a little bit with its average fuel economy, its loud ride and its lack of storage solutions, the 301 does enough to undoubtedly be a solid entry for this segment.