First drive: 2015 Lincoln MKC in the UAE
While German luxury carmakers created the small premium crossover segment with half-hearted attempts like the BMW X3 and the Mercedes-Benz GLK, it was the Range Rover Evoque that blazed a path by showing that these things can actually be desirable rather than just be dull-looking wagons for soccer moms in Europe, considering the German early-birds never caught on in the GCC. Later attempts like the overpriced Porsche Macan are much more style-conscious, and the Americans are now trying their hand at this game too. This here is the 2015 Lincoln MKC, and it's now on sale in the UAE.
Utilising a lot from the Ford parts bin, they've done a great job of not making it obvious, aside from the trademark keypad on the driver's door, the standard SYNC touchscreen and, well, sharing showroom floor-space with Ford. We hear the company is going to do more soon, to make the Lincoln dealership experience more unique.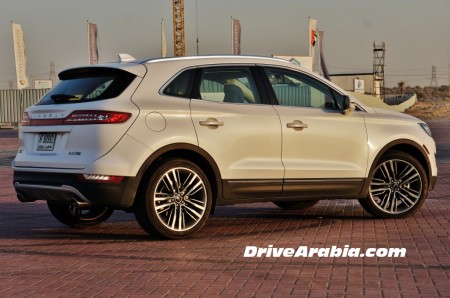 Every visible exterior and interior component on the attractive Lincoln MKC is bespoke, right down to the key-fob. Upstarts like Infiniti, who simply rebadge Nissan keys, can learn from them in this regard. People came up to look at it, and bigger 4x4s moved out of its way on the highway, both signs that it garners respect.
The interior is covered in soft-touch materials on most upper surfaces, more generously than in the pricier Lexus RX even. The SYNC touchscreen, while still not instantly intuitive, is more responsive than ever. And finally, Ford engineers came to their senses and brought back proper buttons to the centre-console for the great stereo and strong a/c, rather than just a distracting touch panel.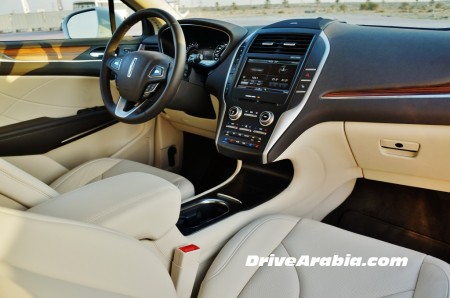 Space inside is just about decent, although rear headroom may cut it close for taller riders. Boot space is pretty good too, and there's plenty of storage space. Our test car felt even airier inside with its light leather and its huge panoramic glass roof.
Powered by a 285 hp 2.3-litre "EcoBoost" turbo engine mated to a 6-speed button-operated automatic and all-wheel-drive, our test car didn't feel particularly quick initially. But then when we switched to "sport" mode, the gearbox finally allowed the engine to rev freely and deeply, making for a much more entertainingly-frantic driving experience. There's even paddle-shifters, should you feel like fiddling with them. Fuel consumption stayed above the 14 litre/100 km mark, but for more frugality, there's a 240 hp 2.0-litre turbo option.
The MKC's cornering limits are respectably high, although exploring those limits is a bit of a guessing game, given the lack of feedback from both the light steering and the pedals. The controls are responsive and linear, but just not communicative. The brakes themselves are also very strong.
The suspension tuning is also a bit odd in that, while body roll isn't too obvious in fast corners, there is an obvious floatiness when driving straight over uneven roads. Mind you, there are no excessive rebounds, but just a lot of suspension travel in that single bounce over a bump. This also means the ride is as smooth as that of a Lexus, maybe more so. And it is far more quiet than any Lexus we've ever tested, believe it or not.
The Lincoln MKC is a great all-round luxury car, competitively priced and a strong performer in most ways. The main niggling problem that the brand will ever face is consumers being able to remember their nameplates without going, "that's the Lincoln MK…uhh…" Well that, and getting well-heeled shoppers to become aware of the MKC's existence in the first place.
For detailed UAE prices and specs, visit the Lincoln buyer guide.
Photos by Mashfique Hussain Chowdhury.