Product review: SlamStop soft-closing door mechanism
About a decade ago, when we first saw the soft-closing door mechanisms on luxury cars, it blew our minds. Doors just closing on their own meant no more question on whether the door was fully closed or not, something that could happen when passengers are climbing in without paying attention as you wait by the road to pick them up. But then again, with warning systems nowadays, it's less of a concern, although the main idea behind this feature is to close a door in a stately manner, without slamming it like an uncouth monkey. Now there's a company in Dubai that offers this feature as an aftermarket add-on for any car. And we have it on our car now.
Slamstop produces a universal door-retracting system that is designed to mechanically close car doors softly, and is also being marketed as a safety feature if you have kids, to ensure all doors are fully closed.
It is the first and only aftermarket product of its kind. Previously, these devices were only available on some luxury cars such as the Mercedes-Benz S-class or the BMW 7-Series, but now you can stick it on your Toyota Camry.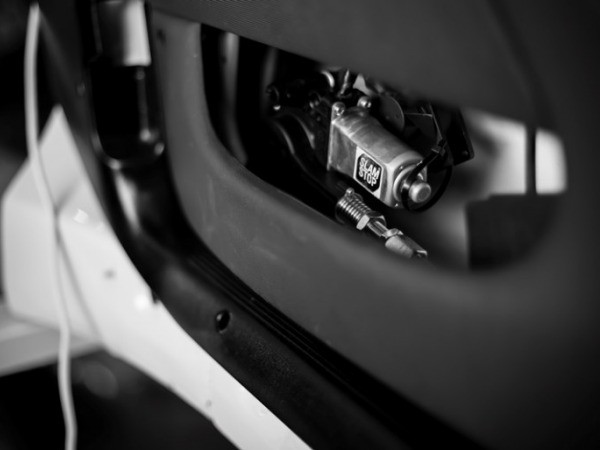 The installation process involves fitting a palm-sized regulator inside each door. That requires removing the inside door panel, and position the device inside, as well as setting up additional wiring to share power with the power-window regulators. We made sure to ask that there is no wire-cutting involved.
However, there is drilling involved, one for a cut-out and assorted screws at the edge of the door, and one to install a little pin and a disc below the door latch on the car's body. It looks stock enough to not be an eye-sore. Each door can take up to two hours, so our Jaguar XK stayed at Slamstop's Al Quoz facility for the better part of the afternoon.
It works perfectly fine, managing well with our Jag's frameless door-window automatically going up or down by a few millimetres every time the door is opened or closed. It's a bit noisier and quicker than, say, the same system on a Rolls-Royce, but we're told it can be adjusted and quietened further with more sound-deadening materials. Also, you can still slam the door if you wish, and the device will not activate in that case.
Slamstop is compatible with almost all cars of any class, regardless of age and model, but some cars are more complicated to install on than others, hence the price range of Dhs 4400 to Dhs 5500 for a four-door car. It's half that for a coupe such as ours. It is guaranteed for up to 30,000 cycles, which is roughly 10 years of use, but the actual warranty period is for 2 years.
It will be available to customers in the UAE via distributors, car-parts retailers, workshops, garages and the SlamStop showroom in Al Quoz as the rolling launch of the product continues.