First drive: 2020 Kia Telluride in the UAE
Kia is no stranger in the full-size SUV 7-seater market, having already had the Mohave in their lineup for the past decade. However, despite being forcefully kept on life-support, the Mohave never really caught on with the general public as their other more-modern models have. Hoping to change that, Kia has now introduced an all-new model, the Telluride. We were invited to a media launch event in Dubai to try it out on a pre-determined route.
The exterior design is certainly interesting, combining a modern look with faux ruggedness. Designed and built in the USA, the Telluride gets Kia's new signature "tiger-nose" front grille flanked by headlights surrounded with LED halo rings. The rear LED lights resemble that of upside-down hockey sticks. The more upright windshield, rear skid plate, and slight fender flares are an attempt to give it a bolder look.
Sitting inside the base LX model, there is still a decent amount of tech. The infotainment has a touchscreen above the centre console with Android Auto and Apple CarPlay. Other than that, it has power windows, power mirrors, fabric seats, keyless entry, engine push start, five USB ports and alloy wheels.
Things really got interesting when we sat inside the top GT Line model. Inside, we were greeted with much more comfortable extra-padded Nappa leather seats and a bigger 10.25-inch touchscreen for the infotainment system. It also has ventilated seats, wireless charging, 6 USB charging ports, multi-Bluetooth wireless connectivity and dual-zone automatic climate control. It has a host of safety features as well such lane departure warning, lane assist, blind spot monitor, forward collision warning, adaptive cruise control and surround-view monitor. Safe Exit Assist (SEA) is also available as an option — SEA detects a car approaching from the rear and overrides a kid's attempt to open the door until the car has passed. The top of the range models also gets seven airbags.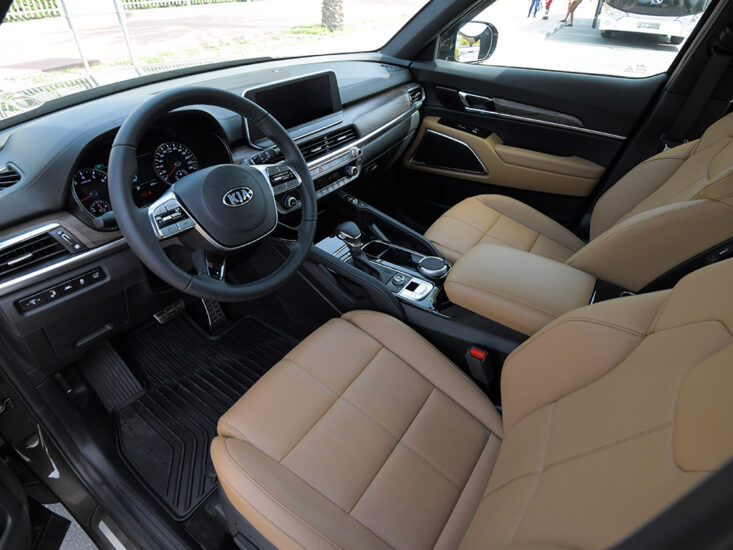 Getting into the third row was a simple affair, with the touch of a button moving the second-row seat moving forward and folding down halfway, providing a decent amount of room to climb through. The third-row legroom is just enough for two adults to squeeze in, but things will get really uncomfortable with three adults. The Telluride also gets a "Driver Talk" feature which the front passengers can activate through the infotainment system. This feature switches on the microphone to communicate to rear passengers, where they can hear you through the speakers, so you don't need to shout to get your message across.
Powering the Telluride is the same 3.8-litre V6 engine as the Mohave, with the added benefit of direct injection so power bumps up to 291 hp and 355 Nm of torque. Kia says this is good enough to take it from 0 to 100 kph in a claimed 7.5 seconds (although it's clearly a fair bit slower in real life) and reach an electronically-limited top speed of 210 kph.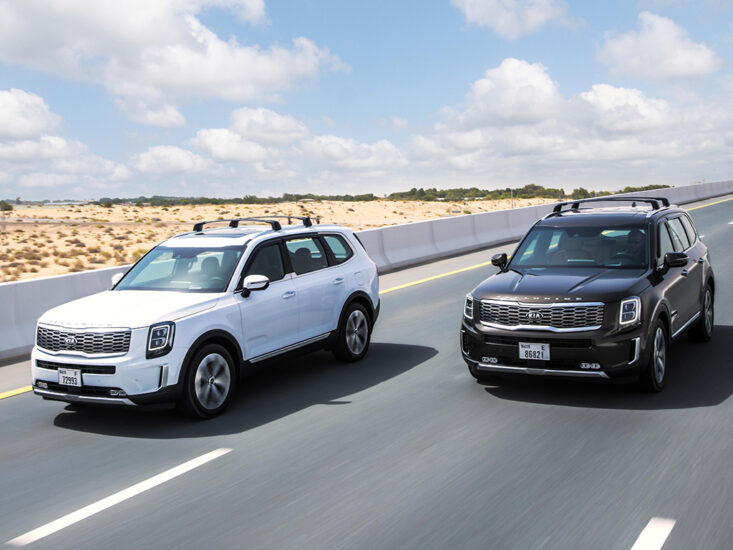 There are different drive modes to choose from – Eco, Comfort, Sport and Smart. The Smart mode decides the best engine and gearing setup according to the way you are driving. We kept it mostly in Sport mode as upshifts and downshifts were too sluggish in Comfort mode for our liking. The GT-Line has all-wheel-drive and gets additional Snow, Mud and Sand modes, which calibrates the gearing to tackle those surfaces, but there is no low-range gearing, despite Kia positioning their SUV as an offroader. Our test-drive at the launch event only consisted of light off-roading on flattened tracks so we don't really know how well it will do on the sand.
The Kia Telluride gets fully-independent suspension, while the GT-Line also gets an optional self-leveling rear suspension which automatically calibrates the Telluride's ride height depending on the vehicle load. It can also lower the rear ride-height for easier access to load luggage.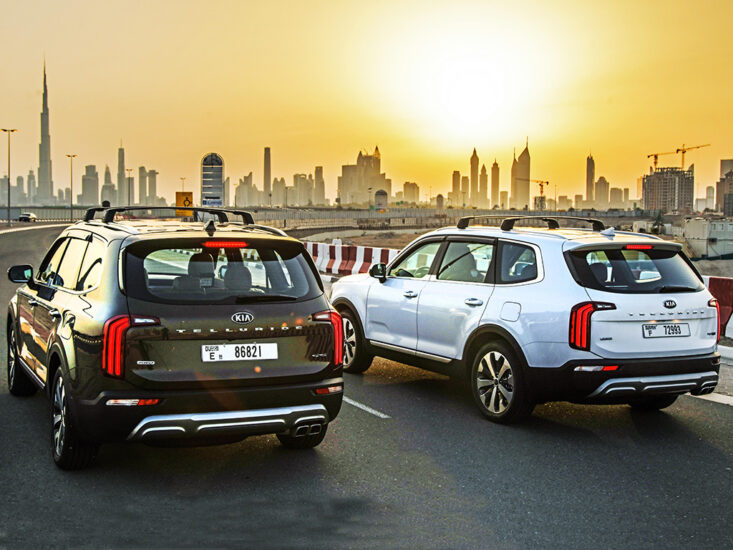 The ride is fairly comfortable and the suspension soaks up bumps fairly well, with body-roll limited to moderate levels in regular driving. The steering has a bit of weight to it which is good, but there is no feedback. The cabin is quiet enough, with engine noise coming through only under full throttle and wind noise becoming obvious at speeds above 100 kph.
Kia took forever to replace the Mohave, but they are doing it right with the Telluride. They have certainly brought out a package capable of competing with the current crop of family SUVs, offroading credentials notwithstanding. With competitive prices as usual, other carmakers should be worried.
For UAE/GCC prices and specs, visit the Kia Telluride buyer guide.
Photos by Kia.