Economy test: 2012 Volkswagen Touareg 4.2 FSI in Dubai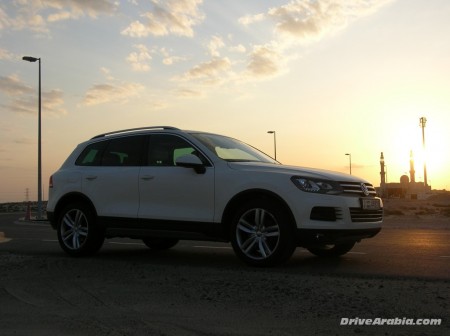 The V6-powered 2011 Volkswagen Touareg we drove some time ago was an impressive SUV. With upscale gadgets, a quiet ride and a luxurious interior, it was quite possibly the best road-going 4×4 in its class. But then we drove the recently-revealed V8-powered version, a model that VW took their time to release, and that too in only a few markets, as they pondered whether there was still a market for V8 models in a world where the latest fad is to go green. Considering we kept this rather-excellent SUV for the better part of a month, we decided to see if a V8 trucklet hurts or helps Volkswagen's "green" credentials.
In normal driving around Dubai, we chalked up 14 litres/100 km with the V6 and 14.5 litres/100 km with the V8, so that there already showed the bigger engine's potential to go on a diet. The 4.2-litre direct-injection V8 makes 360 hp and 430 Nm of torque, impressive given its size compared to other V8 motors. Mated to an 8-speed automatic and losing its low-range gearing to save weight, it has the right tools to better its fuel efficiency, if not its off-road ability.
We filled up the tank with "Super" RON98 petrol, reset the trip computer and drove around Dubai, going about our usual business but following the common techniques for thrifty driving. That meant smooth acceleration and braking whenever possible, keeping the revs under 3000 rpm most of the time. We also drove at the speed limit, well, except when the speed limit was ridiculously low. So we were doing between 90 kph and 120 kph on most of Dubai's wide highways, and entering stop-and-go city streets briefly at the tail-end of the drive. We also left the a/c on.
We clocked in an amazing 10.2 litres/100 km, no doubt helped by the cool late-November weather. It does less than 9 litres/100 km easily if speeds are kept under 90 kph while cruising. It climbs up to around 12.5 litres/100 km if driven casually through the city with a full load of five passengers and 70 kilos of luggage, as we found out on a trip to the airport to drop off relatives. And it can maintain 11.8 litres/100 km on a city-to-city run, if driven at a constant 140 kph on the Dubai-Abu Dhabi highway.
These results are astounding, considering we weren't trying too hard to be frugal. You could argue that the trip computer is inaccurate, but considering that we rarely found ourselves in a petrol station over the last three weeks, we're pretty sure of our conclusion. Even if the numbers were off by 10%, it'd still be impressive.