First drive: 2014 Chevrolet Camaro ZL1 in the UAE

Remember that time we drove the Jaguar F-Type R Coupe in Spain a few months ago? How we were enamoured with its super-grippy handling and its crackly-pop exhaust note? Well, the Chevy Camaro ZL1 is the American version of that car.
First introduced here in 2010, the Camaro line-up has undergone a facelift for 2014, although only the new tail lamps have made it onto the ZL1. Something to do with the need for a bigger grille to cool the bigger motor. The older face looks more aggressive anyway, so it works.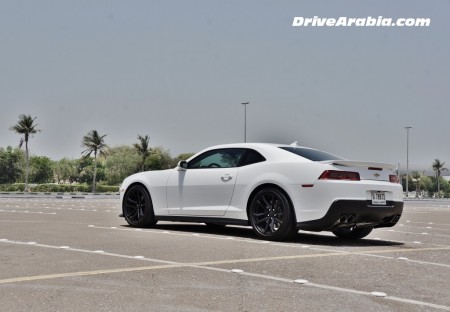 The ZL1 is noticeably lower than the regular Camaro SS, with big black wheels and lip spoilers both front and rear. There's a bunch of big black vents on the bonnet too, all functional. Yep, it's a head-turner.
Inside, the familiar hard-plastic interior gets a retro-fit of alcantara on the dash to match the ZL1-specific leather/alcantara seats, while the LCD touchscreen is new to us too, the latter fairly responsive in the basic functions we used it for, such as calls and maps. The rear will still seat only toddlers, but the boot is useable.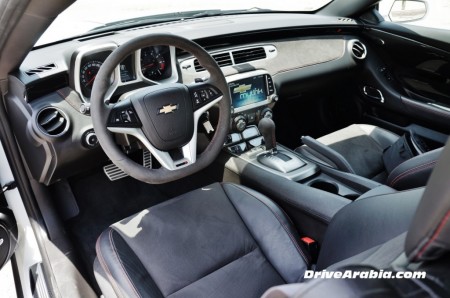 The all-round visibility remains limited but we were actually more comfortable with the big pillars and slit windows this time since we've been driving around in our own sports cars for a while now, and the Camaro now has rear sensors and a camera too, so parking wasn't an issue.
Powered by a 6.2-litre supercharged V8, it makes 580 hp and 753 Nm of torque. To put that in perspective, that's ten more than a Ferrari 458! It's a phenomenal motor, laying down its power via the wide slick-looking tyres with a noise that's a mash-up of the grunt of a V8, the whine of a supercharger and the crackle of a race-car. Frankly speaking though, while there's a lot more drama, it doesn't feel much quicker than a Camaro SS, at least at street speeds. We had the car for a limited period, so we didn't find the time to do any real number-crunching tests.
We can tell you though that it burns more fuel than the biggest SUVs you can think of, so take it easy with that right foot around town. But the better bit is the ride — the ZL1 has magnetic-adjustable suspension with "tour" and "sport" modes, so it's fairly smooth on most roads for a car with such ultra-low profile tyres and little suspension travel, but can be hardened up when you want to push your limits.
The ZL1 corners not like a muscle-car, but like a proper sports car. There's tons of grip, and your good throttle control is rewarded with very little tail-wagging, which is still possible if you really want to tempt fate.
We preferred driving our automatic tester in the responsive manual mode when gunning it, because the auto mode seemed to be a bit hesitant on downshifts sometimes, although perfectly fine is regular cruising. The steering is sharp and direct, if a bit numb, while the massive brakes are modulated by a rather uneven-feeling pedal, although we were just about starting to figure out their character before the car went back.
The Camaro ZL1 is proof of what the platform is capable of achieving, going toe-to-toe with European sports cars in both power and handling. From our brief sojourn in the driver's seat, it was clear too that one could get used to its quirks as well, with a little help from technology. But we couldn't help but wonder how much more interesting this car would be with a third pedal.
For UAE/KSA prices and specs, visit the Chevrolet buyer guide.