First drive: 2015 Chevrolet Tahoe in the UAE

The Tahoe is a major bread-and-butter model for General Motors. Starting life in the 1990s, it forms the basis for a few other similar models from GMC and Cadillac, although the original bowtie version remains the best-seller in the GCC region. And the new 2015 model is on track to continue the nameplate's local legacy, as an alternative for those who can't afford a Toyota Land Cruiser.
To be fair though, it's much more than just an alternative choice now. It has improved in every possible way to become a proper contender in its own right.
For one, it follows a well-resolved styling direction. Large for the sake of being large, it is much more handsome than anything else in its class.
The previous model was big on the outside and surprisingly not-so-big on the inside. Chevrolet has managed to eke out more space inside, so it can actually be called spacious now. There's tons of space for first and second-row passengers, although the third row remains cramped, but access to it is very convenient.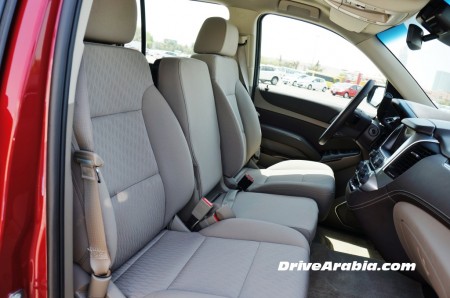 There's tons of luggage space too. And at a pinch, the extra-wide central-armrest between the front seats can flip up to become a lap-belted seat! And here we thought the era of 3-seater front bench seats was over.
The cabin quality has hugely improved, with more strategically-placed soft-touch surfaces to cover up more of the hard plastics. The well-specced one we drove had all the usual technology bases covered, with Bluetooth, navigation, reponsive touchscreen, good auto a/c and what not, aside from a full suite of standard safety features generally missing in lower-spec Japanese rivals. Still not a fan of that column-shifter though.
Powered by a 355 hp 5.3-litre V8, it remains the cheapest V8 fullsizer you can get. With 564 Nm of torque lugging 2.5 tons around, it isn't that fast, but it moves adequately for something this big. And fuel consumption, while expectedly high, is either equal to or relatively better than its rivals.
The ride is silent but a bit jittery due to its body-on-frame underpinnings, yet larger bumps are damped out as if they're being flattened when you lightly bounce over them. And speaking of bounce, while it may feel that way on uneven roads, it never feels tipsy, and its cornering limits are respectably decent.
We like that it comes with four-wheel-drive and low-range gearing, as all 4x4s should. It won't be able to do any extreme offroading, on account of its low front bumper, but it should get you to desert campsites and such.
The Tahoe has evolved into a well-rounded SUV now, instead of just being a Silverado wagon, and it can even be specced up to almost luxury levels, if the top-spec GMC Yukon XL we briefly ran was anything to go by. All in all, a very good entry in a competitive segment.