2019 Nissan Patrol Y61 Falcon, Gazelle and Gazelle X models debuts for GCC only
Nissan has expanded the long-running Y61-generation Patrol Safari range with the introduction of three new editions exclusively developed for the Middle East market.
The popular Y61 Patrol Safari has remained largely unchanged for over a decade, and these three new editions — the Patrol Falcon, Gazelle and Gazelle X — are newest trims available since the Super Safari version debuted a couple of years ago, apparently to great success as year-on-year sales have increased 30% in the first half of the year. There was even a launch event held for more than 2,000 fans in the Maleha desert, preceded by a convoy of Y61 owners from Dubai.
While the drivetrain remains unchanged, with a 280 "gross hp" 4.8-litre inline-6 (or about 248 net hp), the new versions showed to us at the launch event include a new manual version of the Patrol Super Safari as well as a Patrol Pickup Gazelle concept that hints at a future model offering. All the new models come in manual or automatic versions.
Nissan Patrol Falcon Edition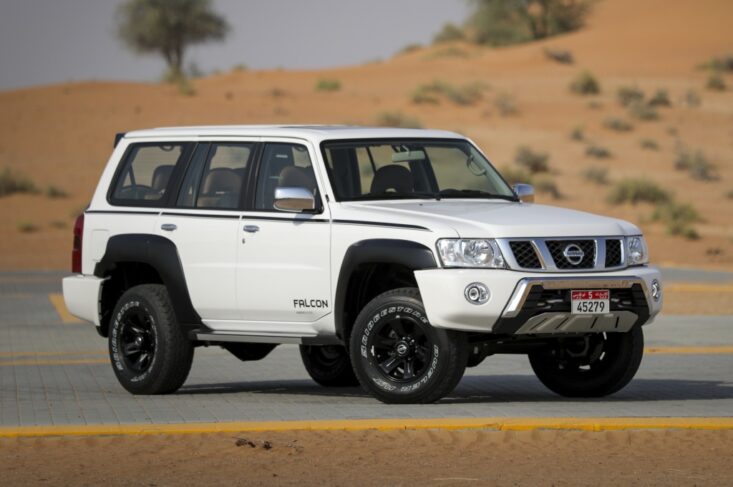 The Nissan Patrol Falcon gets unique body stripes, chrome front bumper trim, silver satin front skid plate, and an integrated LED beam light bar.
New exterior accessories such as semi-gloss black wheel arches, halo-shaped running lights, chrome exhaust tip, a semi-gloss black spoiler and a chrome-finished petrol can holder and wheel cover with falcon-design complement the look.
Inside, the car's premium tan-leather seats, embroidered with a falcon badge, are new. A refrigerated cooler box, dual front airbags, keyless entry system, air conditioning with Independent Rear Cooling System, ABS, and Automatic Speed Control (ASCD) are standard.
Nissan Patrol Gazelle Edition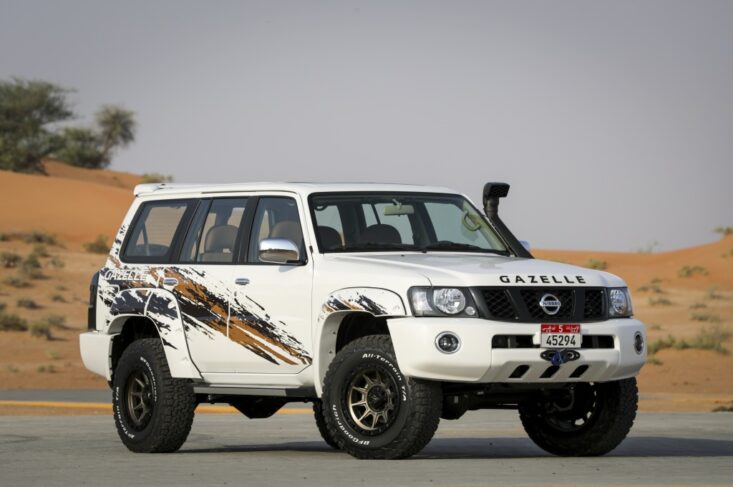 The Nissan Patrol Gazelle edition gets a body decal, new fender flares, and 17-inch bronze coloured-alloy wheels with new 285mm multi-terrain tyres. The latter also features a Gazelle logo in the centre.
The Gazelle's blackened front grille and head and tail lights, along with a newly-added gazelle emblem on the front hood, rear roof spoiler designed for holding flags, bespoke tan leather seats and door trims and a Gazelle logo embossed on the seats, a snorkel, remote reservoir shocks anodised in Nissan red and black colours, a 2-inch lift kit with Nissan red coil springs, and a front electrical winch with a capacity of 4,300 kg are standard.
Nissan Patrol Gazelle-X Edition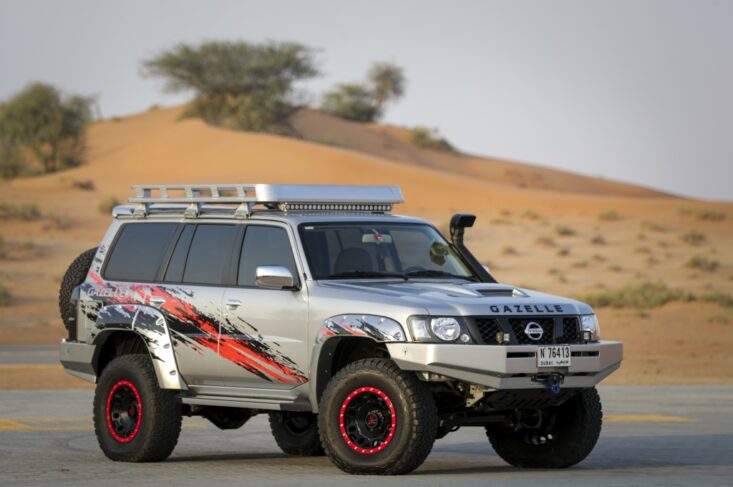 The Nissan Patrol Gazelle X's exterior has been further upgraded from the regular Gazelle with steel front and rear bumpers (with rubber protection) and custom Gazelle logos embedded, two 3 x 3-inch cube LED bumper-lights, rear-enforced bumper with two extreme-duty tow hooks, a spare tyre carrier, custom-made front skidplate embossed with bright red Gazelle insignia, a faux hood scoop, a new set of black and red lined 17-inch off-road alloy wheels with 315mm tyres, roof rack, 30-inch LED light bar, a fifth gear overdrive (only on manual transmission models), increased front and rear differential ratios, 4-inch lift kit with Nissan red coil springs, and a louder exhaust system.
Inside, there are custom-made tan leather seats and door trims, a Gazelle logo detailed on the seats, a cage has been added between the second and third rows to ensure all outdoor gear stays in place, a rear retractable drawer set, a tow rope, sand ramp and an emergency kit.
All models get Vehicle Dynamic Control (VDC) and Tyre Pressure Control Monitoring System (TPMS), with dual front airbags, ABS, immobilizer and cruise control.
Also available are front and rear locking differentials, electric front winch (optional) and a built-in air compressor.
For prices and specs, visit the Nissan Patrol Safari guide.