Long-term update: Our SRT gets ceramic paint protection and wheel protectors
Our cars are parked on the street. As much as people like to baby their cars, some of us truly have no time to fiddle with microfibre cloths or doddle around at manual car washes. So we do what the majority of people do — get a dude to clean it. These dudes use dirty cloths and muddy waters, but there's not much you can do about it unless you like sitting and supervising these things. Regular paint protection loses its shine in months and barely lasts a year, as per our experience. So we decided to try out the new-fangled "nano-ceramic" paint protection on our Chrysler 300 SRT, whose red "tri-coat metallic" paint was looking shabby due to heavy swirl marks, bird poop and a botched smart repair job on the front lip.
The "nano-ceramic" paint protection was done at a garage called Super Fix in Dubai. They said they'll touch up the door dings and all as well. They didn't, so we had to go back again for that, although it was just a dab of paint quickly splashed over paint chips rather than artisan work. However, the included detailing job removed many scratches (and reduced a huge key scratch across the bonnet that was left by a jealous vandal — may he get trampled by a thousand camels), while the paint protection job itself was done really well. It's been 6 months now, and the car still looks shiny. It comes with a 3-year warranty.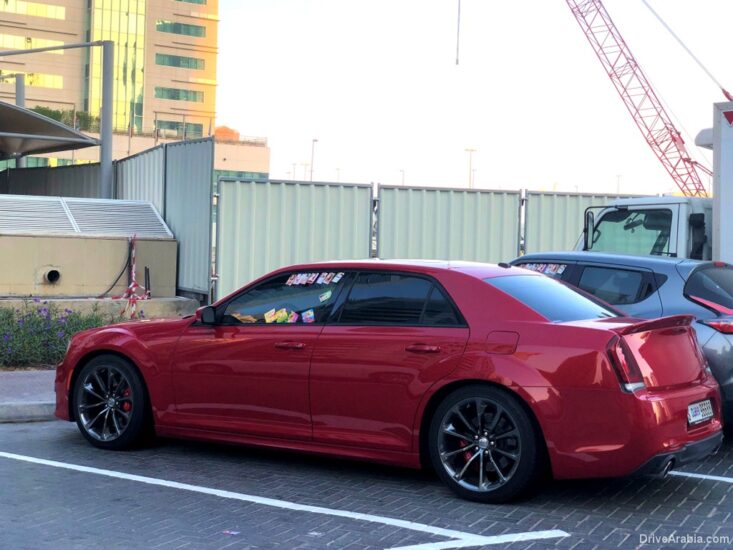 We also got "AlloyGator" wheel protectors installed, which are basically slivers of plastic fitted onto the outer ring of your alloy wheels to reduce curb damage. We went with basic grey rather than ricing up the car with red or yellow options.
The total cost of all the above work was Dhs 2730 (it won't be included in the cost totals below).
The car also went in for dealer service in July. The "20K" service included an oil and filter change, new cabin and engine air filters, and a Dhs 100 engine flush that they claimed was part of regular maintenance. As part of free warranty work, the carbon-fibre door trim was replaced yet again (on a couple of separate extra trips), and we fully expect them to fall off again by next summer. Also replaced was warped exterior rubber trim at the base of the windshield. A recall was also conducted for a potentially-scary cruise control issue, although we never had any issues.
The total cost of the dealer work was Dhs 1760.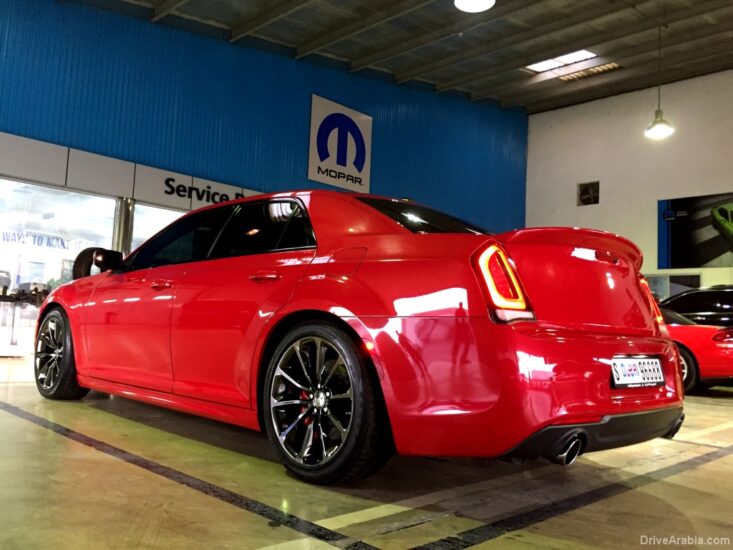 About a year ago, it went in for minor "15K" service, which cost Dhs 780. If you read our old story about SRT service costs, we said service was mandatory every 5,000 km or 3 months. Since that story, the policy has been changed to every 6 months, while retaining the 5,000 km periods, as per our service advisor. This is much better for us, as we don't do big mileages in such short periods.
On a positive note, fuel consumption is finally down to 13.5 litres/100 km (from highs of 17+) due to a combination of "Eco Mode" driving, a better broken-in engine, and winter weather. Yes, we drive it in "Eco" mostly nowadays, not to save fuel, but because it reduces the car's tendency to do unwanted burnouts all over the place, even with ESP on. Reduces, not eliminates.
Original Mileage When Bought: 9,010 km
Latest Mileage To Date: 14,528 km
Latest Average Fuel Economy: 13.5 litres/100 km
Cost of Latest Problems: Dhs 0
Cost of Latest Maintenance: Dhs 2540

Total Non-Fuel Running Cost Since Bought: Dhs 4890