First drive: 2019 Honda HR-V in the UAE
With the rise of crossovers dominating over every other automotive niche, there was a glaring hole in Honda's local line-up that cars like the Nissan Kicks, the Renault Duster and the Ford Ecosport have been playing for the past few years. That gap has now been filled with the introduction of the Honda HR-V, reviving a nameplate that's been dormant here since the turn of the millennium.
The "coupe-like" HR-V we are getting in the GCC is actually a facelifted version of the model that's been selling in East Asia for the past few years now. It has a hatchback-style profile, with almost an extra inch of ground clearance compared to a Honda Jazz, while still retaining the ease of entry-and-exit.
In base DX form, the Thailand-built HR-V costs about the same as a basic Civic 1.6 in the UAE, although we'd recommend springing for the mid-option HR-V LX to get the best features, such as 17-inch alloys (up from 16-inch), LED headlights, power-folding mirrors, push-button start, auto a/c, 6.8-inch touchscreen and the all-too-popular cruise control. Standard features include an electric parking brake, Bluetooth/USB audio, front airbags, ABS/ESP/TPMS and a 4-speaker audio system. You have to move up to the top-spec EX model to get side airbags, panoramic roof, leather seats, rear camera and paddle shifters (for the CVT automatic). But there is no Apple Carplay or Android Auto, or even more speakers for the audio.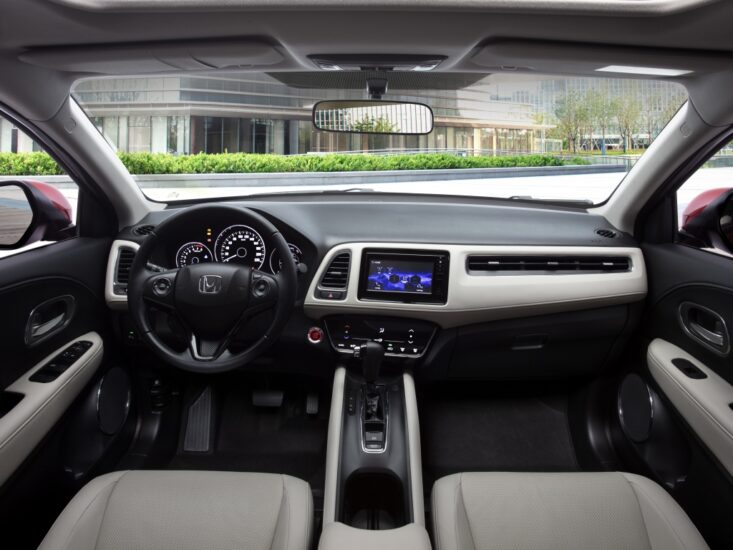 What you do get is very good cabin space, even in the back. The boot is decent, offering a bit more than a hatchback in terms of volume. But you also get Honda's "magic" rear seats that can both fold flat to take long items or fold up to carry tall items in the second-row area.
The standard engine is a 139 hp 1.8-litre 4-cylinder which seems similar in specs to the previous-generation Civic. With 172 Nm of torque on tap, it doesn't feel particularly quick, although a lot of that could be the CVT effect. Thankfully, the automatic transmission doesn't have as much of pronounced rubber-band effect as seen in some rivals. And we managed a fuel consumption figure of 9.2 litres/100 km (10.9 km/l) in mixed conditions, sometimes driven with a heavy right foot.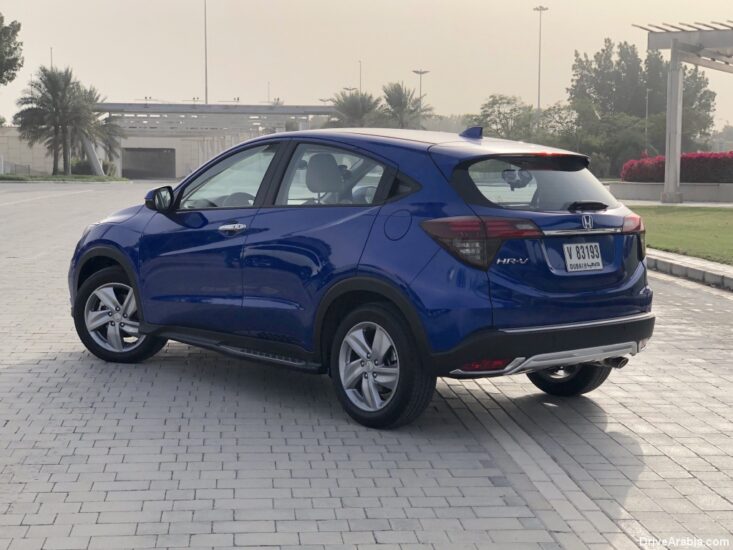 The HR-V only comes in front-wheel-drive form, so don't expect any offroading capabilities after seeing the ding-resistant black-plastic fender arches. What you do get is a high-riding hatchback-like driving experience with a good ride-and-handling balance. Body roll is well-controlled, the highway cruise reasonably smooth with a tinge of firmness, noise levels are within the averages for this segment, and the controls are appreciably responsive.
We jumped into this car after driving the more powerful Honda Pilot, and we can honestly say we enjoyed driving the little HR-V far more in the city, while the highway drive wasn't bad either.
The HR-V is a very competent entry into an ever-growing segment that is slowly replacing regular compact cars. It does not offer up any surprises (except for those magic seats), but it should prove to be a very likeable daily driver if you're after economical transportation.
For prices and specs, visit the Honda HR-V buyer guide.
Photos by Mashfique H. Chowdhury and Honda.